Joanne Cicala Inscore
Legal Experience
Joanne represents public and private clients, both institutional and individual, in commercial disputes and counsels clients on matters involving their response to fraud, unfair and deceptive trade practices, breach of contract and false claims.
Before founding The Cicala Law Firm PLLC, Joanne was one of five equal managing partners of Kirby McInerney, LLP based in New York City. Joanne practiced with Kirby for over 16 years focusing on Medicaid fraud, consumer fraud, antitrust and securities fraud matters. After a few years in the New York office, Joanne launched Kirby's Texas office in 2003 and managed it thereafter. She also established and managed Kirby's health care practice. Prior to Kirby, Joanne worked as a litigation associate with the firm now known as Windels Marx Lane & Mittendorf, also in New York City.
During the years 2003-2013, Joanne was honored to serve as Special Counsel to the State of Iowa, Special Assistant Attorney General to the State of Michigan and lead counsel for the City of New York and 43 New York Counties on protracted matters involving violations of their respective State False Claims Acts by prescription drug manufacturers. These matters returned over $275 million to the State Medicaid Programs. New York and Iowa's claims were heard by the Honorable Patti Saris, United States District Court for the District of Massachusetts. Michigan's claims were heard by the Honorable Rosemarie Aquilina, Michigan State Court.   Notable decisions include the award of partial summary judgment to the New York plaintiffs; the determination that Attorney General of the State of Iowa could bring a claim under the Iowa UDAP Statute; and, the determination that the State of Michigan had successfully plead a cause for money damages under its new Medicaid False Claims Act. Read more about specific cases HERE.
---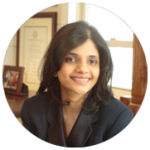 Kalyani Adusumilli
Legal Experience
Kalyani Adusumilli is Of Counsel to The Cicala Law Firm PLLC. She focuses on the prosecution of commercial litigation matters involving fraud, false claims, breach of contract and misconduct in the health care arena. Kalyani is experienced in the representation of state, municipal and local governmental entities.
From 2009- 2012, Kalyani worked with Joanne Cicala Inscore in the Texas office of the New York based firm Kirby McInerney, LLP. In that capacity, Kalyani assisted in the prosecution of Medicaid fraud claims on behalf of the States of Iowa, Michigan, the City of New York and 43 New York County governments.
Kalyani is admitted to the Texas State Bar and the United States District Court for the Western District of Texas.
Kalyani graduated from Wittenberg University (B.A. 1996, summa cum laude), the University of Michigan School of Public Health (M.P.H. 1998) and the University of Texas School of Law (J.D. 2009).
---